About Us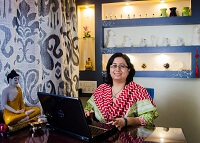 SHREYA VAIDYA
Shreya is a Reiki Grand Master(Master/Teacher). She has been practicing and teaching Reiki for over 17 yrs in India and in the USA. She has spent over 5 years practicing and teaching Reiki in the USA with numerous highly satisfied clients and students there. She is currently located in Pune, India.
Shreya is a software professional by qualification and has spent a few years earlier on working in the IT industry. Today, software engineers and other highly work-stressed individuals come to her for a simple, obvious reason - she can identify with their life-styles!
Spiritual Consulting
Shreya's intuition has been strengthened by many years of healing work, prayers, meditation, regular spiritual practices. Through these, she has learned to use her intuition, and to trust it. It is our intuition, not necessarily our logical, conscious mind, which can correctly interpret many of our psychic impressions. By providing guidance and inspiration, intuition can also act as a valuable and trusted inner compass, helping to point the way through life. She does not claim to be a life coach or self help guru. If it is not true, she will not tell you what she thinks you want to hear, just to make you happy, or for you to like her. She is, however, a person who has empathy, compassion, insight, intelligence, experience, intuition and, above all, a deeply genuine desire to help others. Her students and clients have encouraged her to offer this service because they believe that she has the necessary skills and wisdom to offer excellent guidance and advice.
What do the Consultations Provide:
A better understanding and clearer perspective on situations, challenges or decisions you may be facing, whether they be about relationships, career, yourself, or spiritual in nature.


Help in seeing beyond any limiting beliefs you may have about yourself or your situation and guidance to help you understand yourself better so you can reach your full potential.
Insight to help you see things from a fresh perspective, allowing you to recognize options that you might have not realized were there.
Encouragement, to give you the strength to overcome challenges or situations that may be holding you back.
Guidance to help you better explore and understand your personal spiritual journey.
A virtual roadmap to help clarify the next steps to take when you feel blocked or stuck.
Spiritual Consultancy Fees:- (₹) 7,000 per person
Consultancy modes available

with prior appointments only

:-
In Person in Pune office.
---
She also provides full body treatments for any medical problems. She has found that treating specific chakras or points connected to any organ or energy blockage causing the problem gives a much better result.
Although the term "healing" is most often associated with Reiki hands-on and distant healing, one does not need to be ill or in trouble to experience the positive effects or Reiki healing.
She also offers courses, treatments and remedies in the following alternate healing faculties which are equally powerful:-
---
For registrations and queries, please call Shreya's Healing Classes, Pune at -
+91 8087614516 (Cell), +91 7798886186 (Cell),
or email :- shreya@shreyavaidya.com